Accurate expiry dates are an essential part of running a compliant food manufacturing business. Most regulations involving the production and sale of food require either a best before date or a use by date to be clearly labelled on each of the products you sell to customers. In the food industry itself, this expiry date is commonly also referred to as the "shelf life" of the product.
Depending on your product, you'll need to define either a "best before" date or a "use by date".
A use by date is the date by which the product can be safely consumed, provided it has been stored and handled in the correct way. If a use by date on a product is expired, it is generally disposed of.
A best before date on the other hand defines a date up to which the quality of the product can be guaranteed. The product can be consumed after this time, however key characteristics such as color or flavor of the product may be degraded.
Making a guess on your food expiry dates using data from your competitor products is not a good idea as the quality of their materials and production processes may differ substantially from yours. In order to arrive at an accurate food expiry date, it's essential to analyse your production process from your raw materials, manufacturing steps and storage of materials during the process. This involves an indepth knowledge of the microbiological and chemical characteristics of all materials that you use to produce your products. Any potential hazards need to be recorded, analysed and factored into this step.
Shelf Life Testing
Once a full analysis of your production process is complete and you have an estimate of your desired expiry date you'll usually then move to the testing phase - this is usually called "Shelf Life Testing". Most retailers will usually require evidence of this testing before they can accept your products for sale.
This is commonly performed in conjunction with a commercial food laboratory: your product will be tested for safety and quality at various time markers. For example, if you have calculated that a product should have a shelf life of 6 months then the laboratory will test at Day 0, Day 1, Day 7, Day 14 and so on until the 6 month threshold is passed.
The lab will ask you a number of questions to understand more about the conditions the product was manufactured under and how it is intended to be stored - this information will be used in the test to ensure that it matches with the typical storage and handling conditions that are anticipated. You'll be expected to provide information about how the product is packaged and the temperature ranges it is expected to be stored under.
Most shelf life testing services will test for the following 6 points:
pH
Water Activity
Salmonella
E. coli
Staph. Aureus
Aerobic Plate Count
Listeria
Mold
For each of the markers, you'll be given a report that summarises the findings at each time stage. If any of the markers are found at an early stage (i.e. Day 1) the test will usually be stopped and a new sample will need to be provided.
Testing your product expiry date
Once you and the laboratory have completed the initial safety tests and an expiry date has been confirmed, it is important to continue to verify this date as you move forward with production. This is especially important if you change any of your material ingredients or improve your production processes. Other situations that may require a retest of your products include batch or sale pack sizes and new manufacturing equipment (i.e. a new mixer).
Tracking Product Expiry Dates
Tracking the expiry dates for all batches of your products is really important - to do this, you'll need specialised manufacturing inventory software such as Craftybase that tracks expiry dates, purchases of materials and manufacturing at the batch lot level.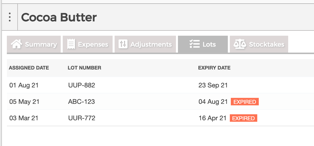 Each individual lot of materials you purchase can be assigned a unique code along with an expiry date. These lots can then be associated to individual manufacture records of your handmade products. Expired lots can be easily located and discarded when necessary, and this information can also be applied to each product. A full traceability report can also be generated for any product or order that you have made, making recalls a fast and efficient process.