Handmade Seller Inventory Spreadsheet - FREE
Download our FREE Handmade Seller Inventory Spreadsheet to get your materials, products, orders and costs under control.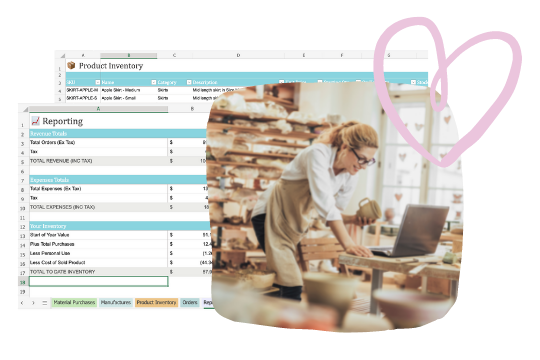 It's a fact: inventory tracking improves both your business and your bottom line - as a handmade maker it's one of the best decisions you can ever make for your business. This easy to use spreadsheet template is designed to help you with the very basics of tracking your materials, products and orders to get you started on your inventory journey. Download our free template today and save yourself the time of creating your own spreadsheet from scratch!
Features include:
- A multi-tabbed spreadsheet file, openable in Excel, Numbers, or Google Sheets
- A detailed online instruction guide
- Material and product tracking, including "out of stock" status
- Expense logging, with personal use deductions
- Cost of manufacture calculations
- Revenue and Expense totals
- Inventory valuation tallies for COGS
Designed for any crafter that makes their own products in-house: jewelery, soapmakers, beaders, candlemakers and more!
Download our free seller spreadsheet today to take control of your inventory, so you can spend time on doing the things you do best!
Join the Craftybase mailing list and we'll send you this handmade seller spreadsheet for free! We typically send 2-4 emails a month about craft entrepreneur topics which we hope are useful to our readership.
We take your privacy seriously - your details will not be shared and are only for the purposes of our mailing list.